Innovation Award "Best CO2 Utilisation 2023"
First stage: From now until 13 February 2023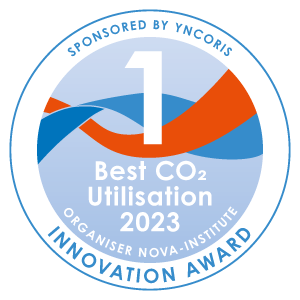 Producers and inventors of innovative products and technologies are invited to hand in a completed application form (application form below) and a leaflet or a two-page PDF about the product in English including printable digital pictures (300 dpi), which are free of use in our subsequent media publicity. The documents should explain the particular aspects of the innovation. If it is possible please also submit a sample of the product (or a small material sample if the product is too unhandy).
Delivery address and email contact: nova-Institut GmbH, Achim Raschka, Leyboldstr. 16 / 2. OG, 50354 Huerth, Germany
Second stage: 13 March 2023
A jury consisting of representatives of the nova-Institute, the advisory board and sponsors of the conference will nominate the outstanding "Top 6" applicants prior to the conference.
After the jury has selected the "Top 6" candidates among the applicants, their application documents will be made available for download from the conference website to provide our audience and other interested individuals a first glimpse of these innovations.
Third stage: At the conference (19 April 2023)
In a short 10-minute presentation, each of the six companies or institutes will introduce their innovation on the first day of the conference (19 April). Following the presentations, the audience will choose the three winners, who will be presented with their awards at the Innovation Award Ceremony (likewise on 19 April), in the evening.
The "Top 6" will present their innovations in a shared exhibition space provided by the nova-Institute. Additionally, there is the option to book your own exhibition space (For information will be published soon).
Download: Overview of the past innovation award winners (PDF).